SPOTbyDot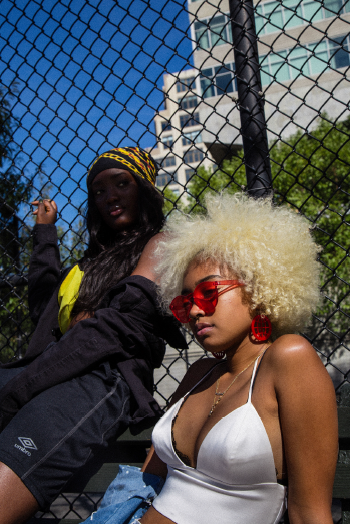 a convo with Dotun Abeshinbioke
jewelry designer, artist & photographer, Communication Design Major at Parsons School of Art & Design
The ecosystem Dotun grew up in was one that catapulted her into a creative career. As a kid, she went to a performing and visual arts school in South London. Her classmates were fellow creatives moonlighting as artists, musicians, and innovators outside of school. She grew up with them and watched them mature as creative people. Dotun witnessed even more of their progress through social media; friend requests, tweets and 'likes' kept her looped in on success stories of other artist-types in the UK. Dotun is one person in the plethora of young creatives emerging from the UK, they are mavericks chasing opportunities and making things happen. They exude energy that is contagious and motivating- it's the kind of energy that excites others to go after their dreams, too.
Her family inspired her to dive deep into fashion and design, self-expression being enthusiastically encouraged in her Nigerian household. This isn't something Dotun takes for granted; finding support to pursue a creative career from families of African cultures can be difficult and rare. Many wish for their children to chose a practical, safe career but Dotun's family pushed her to continue creating. Dotun's upbringing gave her the tools she would later use to define herself as a visionary. Her jewelry line, SPOT, is a sweet reminder that we can make a lane for ourselves without erasing our heritage.
You may have seen earrings in the shape of Africa before, but Dotun personalizes the familiarized concept by creating the earrings using iridescent acrylic sheets. The love is in the details- Dotun's designs are seamlessly translated into wearable pieces of art with the use of a laser cutting machine. The personal touch found in the Africa Cut Out earrings helped SPOT grow in popularity, and people have gravitated toward the Africa Cutting Comb, Mirror Geometric, and Engraved Globe Studs, too. Dotun explores ways to create art while paying homage to her culture -a culture that helped solidify her as an artist- and urges others to do the same. We called up Dotun to talk about her love of collaborating and representing her culture in both subtle and bold ways.
-Pro Mag
Where did your love of fashion and design come from? Fashion would be my family. My mom runs a boutique so she sells like, shoes and handbags and stuff and she loves dressing up, my uncle as well. So my whole family kind of has a love for like, styling, getting dressed up, and I'm also Nigerian so that's like in the culture (laughs)
What made you gravitate toward a creative career? I grew up in South London. I went to a performing and visual arts type of school. So unlike other public schools, we had like a lot more focus on the arts and stuff. So I would say I was exposed to graphic design and photography earlier on because that was the type of school I went to. It was also in a very urban area, so you know, you have a lot of people growing up wanting to be a rapper or whatever they want to be. You know that kind of mindscape where young people are trying to do what they love and going to school at the same time and dealing with all type of things.
You have a jewelry line, SpotbyDot, how did jewelry line come to be? So, it was a class project that I was assigned. I got introduced to laser cutting, I was taking a class and had to use the laser cutter to create something. Anything, it was pretty open. And I wanted to go down the path of creating something you could wear...something related to fashion. My major is communication design so I work a lot with graphic design machines and stuff like that. But my other love is fashion and that's something I wanted to bring into what I do, so that's why I decided to try out making earrings and such.
How would you define your creative process? My creative process, umm I always think of the idea first. I know what the inspiration will be and then I find the outcome. For example for the line I want to release in celebration of Black History Month, I like to think about things that symbolize Black strength and resistance in relation to women so I've been looking at the history of hoop earrings and designing some for SPOT. So the process is usually having an idea or theme I want to creatively bring to life, finding inspiration and looking into how to make it happen.
I've been working on doing more collabs with new people that want to also include my brand in the shoots. I'm working on a few projects for my brand for this upcoming month for black history month, that's what I have coming up. Yeah, usually with my shoots they're last minute, the week before I'm like I have an idea and I want to shoot this weekend, and that's how it really comes about.
Would you be able to say a lot of your inspiration these days are from your peers and other black and brown women? Yeah, I would say that is a lot of my inspiration
Dots now being stocked in Future Tense, taste-makers and social influencers were spotted wearing your jewelry. How does that feel for you as a designer? Is there a sense of accomplishment? I feel like its a good starting point for me, I see and I hope for a lot more in the future. It's a good way to reflect on my past year because last year is when I started and to continue going, more encouragement for this year to have more stocking, more people wearing it, more brand visibility in general. And Future Tense is actually in my mom's store so it's nice to firstly be stocked in Nigeria and also within a family store, it's definitely the first place I would want to be stocked before going elsewhere.
the art of the collaborator
You've done collabs with Oye Shea Butter, Helena Koudou of slayedinbraids, and Brownsugarcollective and recently teamed up with Nigerian photographer, Wami Aluko for a photoshoot. What's your favorite part about collaborating with other companies and why is it important to you?
I think collaborating is just something I love to do, that's something I've learned to do more as I been going to Parsons. I realize it enhances the work and makes it more of an original piece. If I'm doing a video, I'm getting original audio from someone I know who sings and makes music. Being able to collaborate with people completely out of my realm is something I enjoy doing for my brand. I have a lot of friends who are in the creative industry and are very talented and I'm always around them so it's great to be able to creatively do something together. That's why I collaborate a lot. My favorite thing about collaborating is hearing other people's point of view, being able to fuse two types of talents together and being able to work with a new technique or a style.
"My favorite thing about collaborating is hearing other people's point of view, being able to fuse two types of talents together and being able to work with a new technique or a style." -Dotun
Seen: Curve Earrings, photo by Dotun Abeshinbioke
How does it feel to have the freedom to include your culture in your work and why is it important to you and those who see it? I feel like it's really important because I like being able to do stuff that people can relate to even if it's just my artwork separate from my brand. If it is my brand, that's kind of why I started it, the beginning message was all about being inspired by Africa. Even if it's not as obvious as, for example, the iridescent earrings, like the Africa cut-out earrings. It could be shapes inspired by patterns you see within African prints and stuff like that. Just having something that people can relate to, that's always something I wanted to do.
What's something you're excited for people to learn about you through your work? That's a hard one. I'd say one thing I'd like people to know is I'm always creating visuals and stuff for my brand because I feel like it's something I'm able to indirectly use to reflect my culture rather using myself. I feel like it's a way for me to express all aspects of my culture from growing up in London to now living in NY to visiting Nigeria often.I want my work to be a reflection of all my experiences and passions
You can find Dotun's jewelry here. Visuals and photography? Right here.